Vendor Managed Inventory
Seacoast is one of the world's largest distributors of specialty suppliers of cable and associated electrical and electronic products for the military and shipbuilding industry, the oil and gas industry, and industrial markets.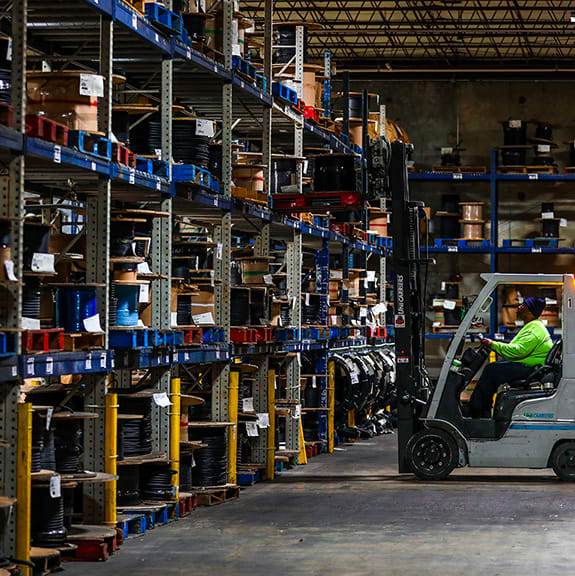 Vendor Managed Inventory (VMI), a business model that maximizes customer profitability and vendor profitability simultaneously, is the cornerstone of Seacoast's value proposition. VMI provides you with:
» Minimal inventory on hand at your location
» Automated replenishment when it's needed most
» The ability to fine-tune your inventory levels based on sales and usage trend
VMI is a business model where the supplier maintains stock levels at the customer's location.
This method eliminates excess inventory and reduces costs associated with storage and handling. It also allows customers to order products as needed without the distributor's normal sales operation, which results in better inventory accuracy and improved cash flow.
The benefits of VMI are especially evident for high-value fast-moving items such as shipboard wire and cables that require an immediate response from suppliers when demand increases or decreases. The following examples illustrate how some Seacoast customers have implemented this strategy:
VMI is based on a continuous feedback loop between supplier and customer in which orders are automatically placed when inventory drops below a certain level. This system reduces stock-outs, lessens order processing time, reduces carrying costs, and improves inventory accuracy.
---
Our Premier Manufacturer Relationships
Seacoast has developed premier relationships with key manufacturers across the globe, allowing us to bring our customers unparalleled value. With a vast network of vendors, we source high-quality products and offer them at competitive prices.
Seacoast also maintains an extensive inventory that includes nearly all available shipboard wire and cable products worldwide. With one of the most extensive on-hand inventories in the industry, Seacoast can fulfill orders quickly and efficiently for any application or size order – small or large!
---
As part of a strategic partnership, Seacoast becomes an extension of the customer, buying for their account against manufacturer requirements and allocating product as it meets their unique needs.
Seacoast buys for its customers' accounts against manufacturer requirements and allocates products as it meets each unique need. As a result, Seacoast is able to get the very best prices possible while guaranteeing that you will have what you need when you need it. Our ability to buy in bulk on your behalf enables Seacoast to offer highly competitive pricing on all our products.
We can provide a complete solution for any size operation with our vendor-managed inventory program. Whether you need one spool or ten thousand rolls, Seacoast has what you need to keep your operations moving smoothly.
As a system integrator, we are your premier distributor because we have unparalleled industry experience and decades of experience managing supply chains.
We understand what it takes to deliver the best products and services on time, every time. We are one of the world's largest distributors of shipboard wire and cable, with a global footprint that spans Asia, Europe, and North America. Our dedicated team of buyers is experienced at finding solutions for our customers' unique needs; they are experts in their fields—cables, connectors, and installation hardware—and specialize in customizing product lines to fit individual specifications or OEM requirements.
---
Everyone at Seacoast is passionate about problem-solving, whether on behalf of our customers or each other.
The Seacoast team is passionate about problem-solving, and we have a passion for ours. When one of us has a problem to solve, we turn to our colleagues—who are also problem-solvers! To ensure your inventory management needs are met as efficiently and effectively as humanly possible, we've devised an interdisciplinary process that combines our knowledge and experience to handle any situation you may find yourself in. In addition, our team comprises experts in their respective fields who work together collaboratively to provide high-quality solutions for your organization's inventory challenges.
---
We proudly offer a comprehensive range of VMI services, from products and inventory management to stockroom management and logistics. Seacoast is the premier source for your wire and cable needs. We look forward to working with you!