Lead Time Solutions
Seacoast is a leading global supplier of electrical, fiber optic, and high-performance shipboard wire and cable products, with supply chain operations in North America. As a result, Seacoast can deliver time-sensitive products to its customers as quickly as possible. Seacoast's highly-skilled sales force proactively works with shipbuilders to assess their needs and match them with the right product. Our salespeople anticipate rather than react to customer needs, enhancing flexibility and responsiveness when addressing customer issues or questions. Seacoast's approach is very straightforward: We understand our products inside out and know what they can do in various applications and how best to get them into your hands as quickly as possible.
Our process ensures we understand how our customers use our products and the key features they value. These insights allow us to provide the best possible solutions while meeting lead times on every order. Our expert sales team goes above and beyond in their product knowledge so they can provide the information you need when you need it most.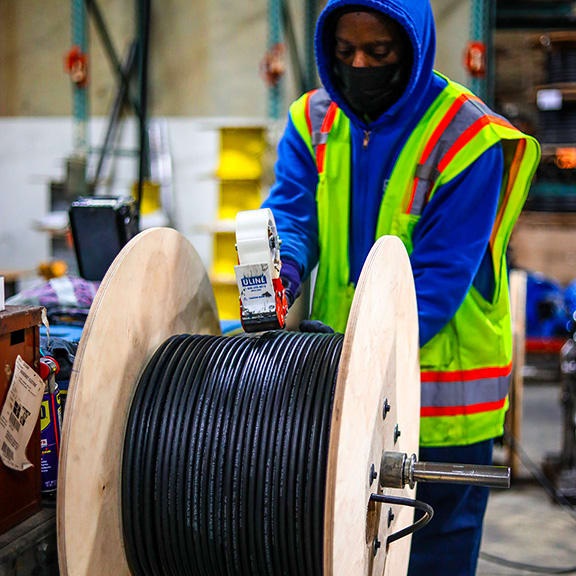 Seacoast's approach is very straightforward: We understand our products inside out and know what they can do in various applications and how best to get them into your hands as quickly as possible.
Lead Times
By anticipating lead times, Seacoast can ship the right product to ensure your project is completed on time. Seacoast has a highly-skilled sales force that proactively works with customers to assess their needs and identify opportunities for improvement. The company understands the product, the marketplace, and how to promptly get the product to the customer. Seacoast has many vendors from which it purchases products, so if one vendor's lead times are high, we can purchase from an alternate source.
---
Alternate Products
Keeping abreast of new products on the market, Seacoast sales engineers are able to recommend alternate products when necessary to meet customer needs. While Seacoast supplies a wide range of components for wire and cable assembly and design, the company is also a complete solution partner. Seacoast sales engineers recommend alternate product when necessary to meet customer needs. As a total solution partner, we can provide all the necessary parts to build cables or wire harnesses, including accessories. This approach can help eliminate inventory needs and reduce customer lead times by eliminating multiple sources for each part. In addition to supplying cables and wire harnesses with pre-installed connectors using our Ready-To-Go (RTG) product line, Seacoast offers custom solutions through its Engineering Services Division that can help with design requirements on new products.
Custom Packaging & Labeling
Seacoast can package multiple components into a single shipment, reduce shipping costs by consolidating shipments from multiple suppliers and pack individual components into "ship sets" to eliminate the need for additional packing. Ship sets are a great way to save money on freight costs. This reduces the number of shipments and parts that need to be inventoried at Seacoast.
---
Seamless Solutions
By consolidating shipments with suppliers, Seacoast ensures that multiple components arrive at its facilities together so they can go out together in a single shipment to the customer. Keeping lead times short: Lead times must be as short as possible so Seacoast ensures it receives all components for a cable assembly at its facilities together. This process ensures the components can be assembled and shipped in a single shipment to customers. Diversifying supply chain partners: Seacoast works with multiple suppliers for each component used in its cable assemblies, so there is always an alternative supplier if one experiences delivery time or quality control issues. Inventory replenishment: To ensure Seacoast always has adequate inventory, we often work closely with customers to determine how long their current inventory will last and when they'll need to restock before running out. Once both parties establish and verify those numbers, Seacoast places orders with all necessary suppliers simultaneously. This process minimizes the risk of late deliveries due to one supplier's timeline issues, which often triggers further delays across the supply chain.
Seacoast's goal is to work with the customer to ensure their lead times are met. We do this by proactively anticipating needs and providing in-depth product knowledge. This approach helps Seacoast provide customers with the answers they need about their products and professional insights on how best to meet their needs.